Our friendly dental team is here to make your visit at Hearthstone Dentistry a comfortable, stress-free experience. From assisting Dr. Monica Chau in caring for your teeth to discussing your treatment plan, you can rely on us to make sure you are well-taken care of. Call us today at 281-859-8518 to schedule a consultation with our dentist and learn more about comprehensive dentistry in Houston, Texas.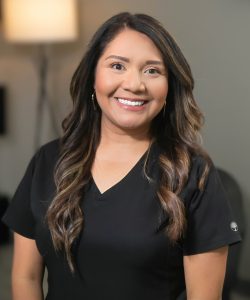 Wendy
Office Manager & Registered Dental Assistant
Wendy began her dental career in 2001 and joined our team in 2019. She speaks Spanish and is certified in nitrous oxide, CPR, HIPAA and OSHA regulations, radiology, and phlebotomy. Wendy enjoys making our patients feel at home and helping them achieve a wonderful smile.
She enjoys spending time with her husband and their two beautiful daughters. She loves to organize, decorate, craft and volunteer at her local church.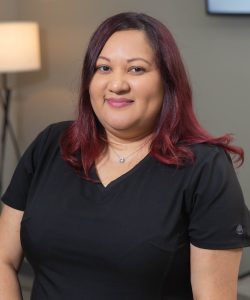 Jessica
Front Desk Coordinator & Registered Dental Assistant
Jessica graduated from Remington College in 2017 as a member of the National Technical Honor Society, and she has been a member of our team since 2022. She loves working with such a fun group of hardworking, kind-hearted people, and you can find her greeting each of our patients as soon as they come in through our door. She is the reason our schedules run smoothly each day, and she works to ensure each patient is comfortable in our office.
Jessica and her husband have been together since 2011. When she is not at the office, she enjoys doing puzzles, reading autobiographies, playing on her Nintendo Switch™, playing Guitar Hero with her husband and going to the movies.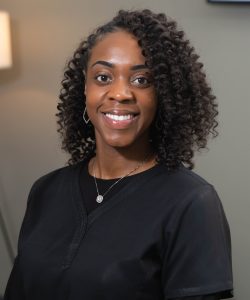 Pascha
Registered Dental Assistant
Pascha has been a part of the Hearthstone Dentistry team since 2022, but she has over eight years of experience working in dental offices. Her commitment to bringing her best work to the office every day and prioritizing her patients' needs makes her a valuable member of our team. She appreciates the opportunity to work alongside dental professionals from all walks of life, and she loves how well everyone collaborates together.
Pascha has been married to her loving husband for two years. They enjoy having prayer, working out, watching movies and spending time together as a family. She also likes making pottery when she has spare time.